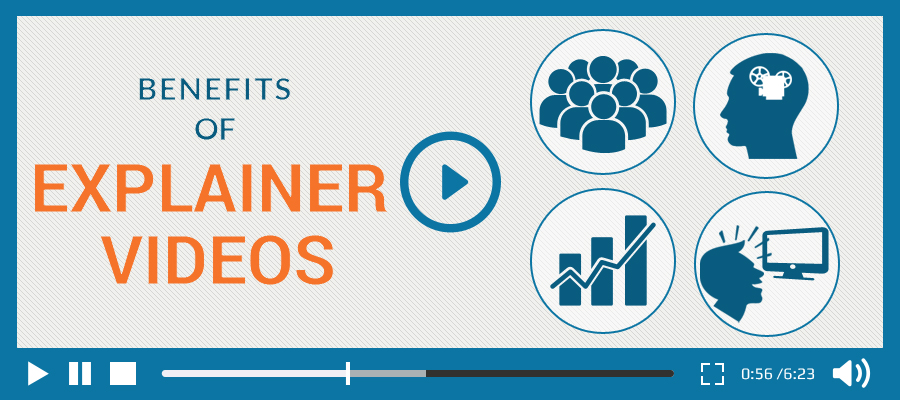 We are approaching 2016.
If you are still looking for reasons to have an explainer video, then here is a list of benefits that you could expect from having a high quality explainer video for your business.
#1 Explainer Video is the perfect tool for audio-visually demonstrating or explaining your offering (Product/Service/Software/Mobile App)
No matter how revolutionary your offering is, if your prospects don't get it, they won't buy. Through an animated explainer video, you could beautifully demonstrate the functionality and/or benefits of your offering, in a way, that your prospects understand and appreciate it.
#2 Explainer Videos increase customer base
Having an Explainer Video evidently increases your customer base. In fact, a lot of online service providers have been able to significantly increase their number of users just by using an explainer video to communicate about their offering. Dropbox, is one such service provider. Since the beginning and for quite some time, Dropbox featured only an explainer video and a download button on the homepage. The video essentially showed how Dropbox solved a problem that a lot of people face. The explainer video helped them gain about 100 million users!
#3 Explainer Video increases your website visitors' Stay-On Time
Majority website visitors spend barely a few seconds to decide whether or not they want to explore the site further. So, even if your site is able to drive paid/organic traffic, it may or may not be able to hold your visitors for long. Having an explainer video on your landing page could drastically improve your visitors' stay-on time since typically, an explainer video is 60-90 seconds long and a visitor would usually prefer watching a video than reading and processing textual information. And if the video succeeds in attracting your visitors, then chances are, that they'd further like to explore your site. Thus, a high quality explainer video on landing page could increase the amount of time your visitors spend on your site.
#4 Explainer Videos could improve your Search Engine Ranking
Even popular search engines 'appreciate' you having video content on your site! Videos are known to improve your search engine ranking. If used effectively, videos could communicate way better than text.
#5 Explainer Videos let you talk about the value, your offering provides
An Explainer Video lets your viewers hear you out. Hence, it gives you an opportunity to precisely tell the value your offering provides and why they should care about it. In fact, the supporting animation serves as a visualization that assists in understanding your message faster and better.
#6 Explainer Video saves your visitors, the effort of processing textual information
Reading and processing textual information is effort & time consuming. Most website visitors have short attention span and usually scan through your site instead of reading it completely. Because of this tendency, they often miss to completely understand your offering and you unnecessarily end up losing potential customers. A landing page explainer video lets you give out your core message to visitors, thereby saving them from reading your website page-by-page and inferring this core message on their own.
#7 Explainer Videos let you demonstrate typical customer problems and present your offering as a solution to those problems
It may happen that although your prospect needs your offering, he fails to realize that need. Your explainer video could help your prospect realize that need, and appreciate the usefulness of your offering, thereby getting persuaded to buy your product.
#8 Explainer Videos let you add emotional appeal to your message
Explainer videos let you create human-like characters. This gives a scope for imitating real emotions through the video. An emotionally appealing message is more likely to sink in and be remembered as compared to a message that's been plainly put across. Hence, explainer videos let you add emotional appeal to your message, thereby making it more engaging and memorable.
#9 Explainer Videos bridge communication gap
When your product/service is complex to comprehend, then chances of your prospects misunderstanding your offering could increase. In fact, if communication is too complex, it may even happen that your prospects give up on understanding it. Explainer Videos help you simplify communication and bridge that communication gap with your potential customers.
#10 Explainer Videos intrigue your prospects to learn more about your offering
A high quality explainer video not only clearly communicates, but often intrigues your prospects to take some action after watching the video. Hence, having an explainer video could help you attract new customers.
#11 Explainer Videos are memorable
Unlike written communication format, the video communication format is highly dynamic and engages the viewers both- auditorily and visually. Hence, the viewers naturally pay closer attention while watching a dynamic video, than while reading static text. Therefore, a video is memorable.
There are enough reasons for having an explainer video that talks about your business in the most interesting and memorable way than ever before! So, pull off an explainer video and convert your prospects into customers!
Hope the post helps! Feel free to comment below.
If you want us to produce your explainer video, you could contact us or get a free quote.