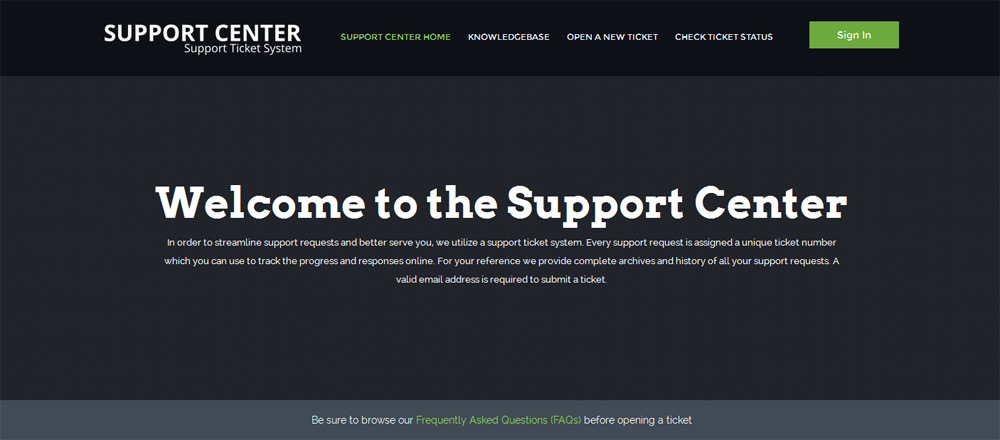 Managing Online Customer Support could be a complicated process, as 'Support' could include numerous sub-processes like assistance in installation, training, troubleshooting, maintenance, so on and forth. In order to readily discuss issues of your customers and update them upon issue resolution, you need a communication platform that not only is easy to interact over, but also has relevant features to keep your customer interactions updated.
If you're looking for a functionally-friendly free Customer Support System, that could enhance your customer interaction process, then Osticket Customer Support (Ticket) System is the ultimate option for you. Osticket is an open source, website support ticket system that could be incorporated on your site, for easily managing your customer issues.
How Osticket Support Ticket System Works
Suppose, Osticket Support System is installed into your business website. Now, when your customer is looking for some sort of support, he could 'raise a ticket' through Osticket Support System. In case, there are multiple, unrelated issues that your customer wishes to discuss, then in that case, he could raise separate tickets, for each kind of issue. Each ticket, is always assigned a unique ticket number. Hence, the customer could have separate discussions, pertaining to separate issues, with the support team, over this ticket support system. It is important to note, that unless an issue has been completely resolved by the support team, its 'Ticket Status' would remain 'Open'.
This easy-to-use and interactive, written communication platform, could be availed in a customised theme, for your website.
Download Free osTicket Theme   Get Customized osTicket Theme
Following Are Some Key Features of Osticket Theme, That Could Help You Manage Your Customer Support Ticket System, Effectively
#1 Option to Raise a Ticket & Choose its Priority Status
If a customer has a complaint or query, he could raise a ticket by writing the details of the issue at hand, and then share it through osticket support system. The customer also has the option to set an  issue-priority level from the given drop-down list of priority levels. The support team could respond to the mentioned issue, accordingly.
The image given below, highlights these key features. (Please Note: All the images used in this post, showcase Phoeniixx Designs' in-house customized theme.)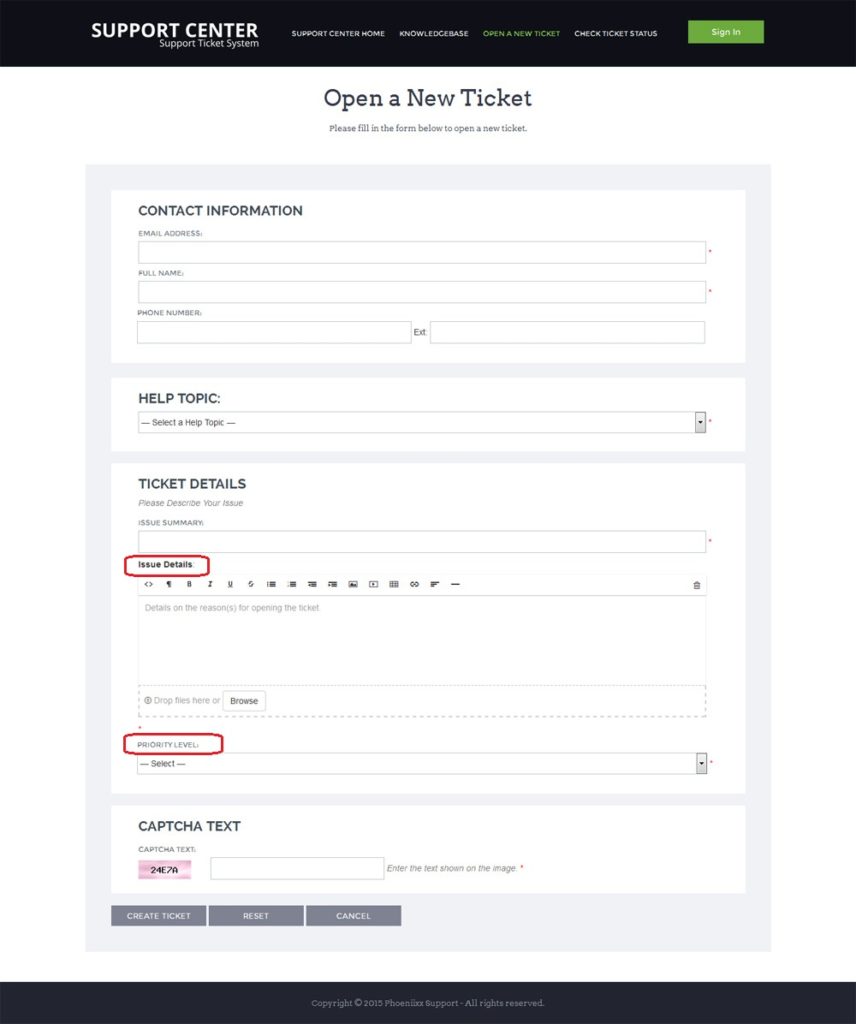 #2 Knowledge Base Section : For Browsing FAQs
A lot of times, your customers have common queries. The Knowledge Base Section lets you post FAQs, thereby assisting your customers in searching & browsing information, relevant to their query(s). This often assists them in solving issues at their own level, thus saving their effort of raising a fresh ticket.
#3 Tickets Index
Osticket Support System also helps you effectively manage multiple issues (tickets), by indexing all of them at one place. Each entry shows- the ticket no., (ticket) create date, status, subject & department.
Other Features of Osticket Theme
Few features of Osticket are editable and could be modified by the users, at a later stage of communication. These features include Subject (issue summary) and Priority Level. This helps in updating issue – related information and keeping both – the customer and the support team at the same track. Also, the user is given the option to attach reference material, along with the query message.
The image given below, highlights these features of osticket's communication forum.
The front end of osticket theme is customizable. You could even set up the logo image of your choice. Needless to mention, you could solve your customers' queries based on the priority level, set by them.
Customer support management could be a confusing and tedious process. With osticket responsive theme, create a visually and functionally appealing support system for your customers and simplify your support management process.