Description
OUR PLUGIN SUPPORT THE MULTISITE NETWORK.
With this plugin, the admin can add various options to each product about the attributes like colour, size, height, and weight.
In association with each variation, the admin can add text fields and a text area where the customer will be able to add the text of choice which he/ she wants to be printed on the clothing item. He can even add the option to select an image to be printed.
These options will be in the form of radio main, drop main. The admin can even set the option to charge an additional amount depending on the said customization.
CREATE 10 CUSTOM INPUT TYPES ON PRODUCT PAGE
FLAT PRICE AND PERCENTAGE OF THE PRODUCT BASE PRICE



CUSTOM INPUT FIELD CONDITIONAL OR COMPULSORY FOR YOUR USERS
Conditional Logic to show and hide various fields
3 OPTIONS TO SHOW OPTION DESCRIPTION TYPE – TOOLTIP , MESSAGE OR HIDE BOTH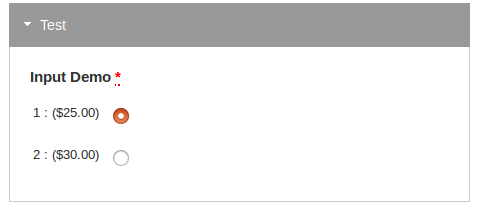 SET BY DEFAULT ANY OPTION LABEL IN RADIO BUTTON , CHECKBOX AND IN DROPDOWN INPUT FIELDS
CAN ADD IMAGE FOR OPTIONS FOR RADIO BUTTON AND CHECKBOX INPUT FIELDS
CAN SHOW DATE OR TIME OR DATE AND TIME BOTH IN THE DATE AND TIME PICKER FIELD
CAN SHOW TO AND FROM FIELDS IN THE DATE AND TIME PICKER FIELD
Advance Styling